CAPE MAY FALL BIRDING FESTIVAL:
Link

Link

Link

Link

Link

Link

Link
CAPE MAY FALL BIRDING FESTIVAL: 10/17-20/2019. Cape May Convention Hall and other venues.

NJ Audubon's Fall Festival is the longest running birding festival in the country. New Jersey Audubon's Cape May Bird Observatory has its finger on the pulse of fall migration and you are invited to be a part of it. Four official migratory counts take place during the fall: the Monarch Monitoring Project, the Avalon Seawatch, the Morning Flight Songbird Count, and of course the celebrated Cape May Hawkwatch. There is no better way to immerse yourself in the storied birding experience that is Cape May than attending this festival. We are not the only ones that think Cape May is the best place for birding, see what National Geographic has to say

National Geographic lists Cape May as a World's Best destination for birding. Here is what they say: The narrow peninsula at Cape May acts as a bird funnel, bringing in songbirds during their spring and fall migrations. At dawn on a good day, legendary Higbee Beach offers front-row seats to a feathered fashion show: A steady procession flies by, each bird intent on finding a place to rest as it encounters the natural barrier of Delaware Bay. With a little luck, you can see 20 species of warblers, each in its own colorful costume.
For more information about registration, programming and costs associated with the Cape May Fall Festival contact CMBO at 609-246-3581.
www.birdcapemay.org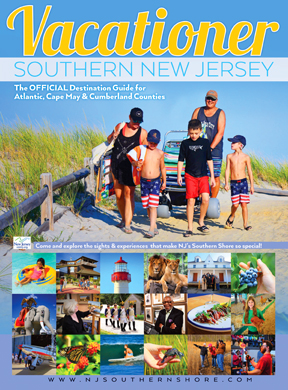 Planning a trip?
Check out the region's premier guide covering Cape May, Cumberland & Atlantic Counties. Unlike most other guides that are filled with mostly advertising, the Vacationer is brimming with helpful stories along with beautiful photographs. Discover everything you need to plan your visit. Beaches, boardwalks, casinos, nightlife, dining, amusements, lodging and much more.
View it online OR Request a printed copy
Tourism Information:

Cape May County
800-227-2297
Cumberland County
866-866-MORE
Interested in advertising with us?
Find out why advertising in the Vacationer is so different from your other choices.

Rate Card here
Contact our sales staff here
Supported in part by a grant from the New Jersey Department of State, Division of Travel & Tourism.